Discover and Empower the Medicine Woman Within
September 26 @ 10:00 am

-

September 27 @ 5:00 pm

£145.00
Discover and Empower the Medicine Woman Within
This two day course will connect you to your Inner Medicine Woman, an archetypal aspect of your deeper self, who calls you to grow into your power, claim your gifts, learn how to use them and contribute to the change.
The Ancient Medicine Woman has many aspects to her. She is: the Wild Woman, the Shamanka, the Witch, the Herbalist, the Healer, the Priestess, the Activist, the Creatrix – to name a few.
Waking the specific aspect that resides deep within you, waiting to be heard, nurtured and brought to the fore will change your life. Connecting to, trusting in and working with her wisdom and energy will unleash your primal power, show you your unique path, and how to walk it.
Once you have connected with her she will support you to:
· Remember your deeper calling
· Activate and develop your specific gifts
· Accept the challenge to reclaim your fierce/earth/womb power.
· Intuit and embody your ancient wisdom
· Share your medicine with the world.
If you are on a journey of self-actualisation and feel called to develop your unique gifts and share them with the world to change people's lives for the better, come and join us.
These two days function as a stand-alone course and also form the introduction to our Medicine Women Practitioner Training course.

Facilitators:
This two day non-residential course is a unique opportunity to work with two modern medicine women and change-makers, who have successfully followed their calling.

Christa Mackinnon and Vanessa Tucker, the founders of 'Women Weaving Change' and the 'Training School for Modern Medicine Women' have for many years enabled women to grow and find and express their uniqueness. They train therapeutic professionals, holistic and shamanic practitioners, whilst also writing books, running retreats and workshops and being active in the women's movement and extinction rebellion.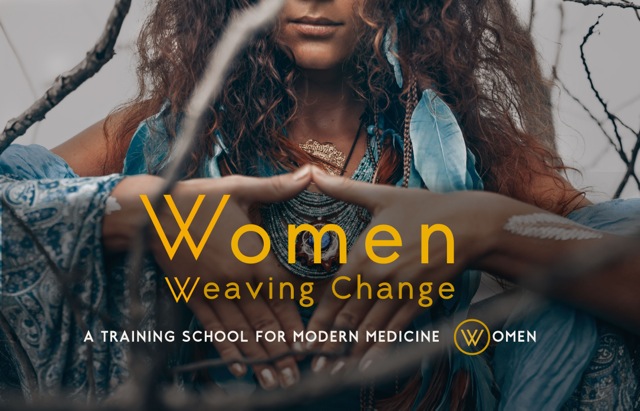 Christa Mackinnon is a psychologist, therapist, counsellor, shamanic teacher, speaker and author. She is the founder of 'Bridging the Worlds – Ancient Wisdom for Modern Times' where she trains therapeutic professionals in shamanism and co-founder of 'Women Weaving Change' and 'Sacred Earth Ceremonies for Change'.
Vanessa Tucker is a Reiki Master, Hypnotherapist, NLP Practitioner, Crystal Healer & Shamanic practitioner. She is the author of The Art of You, founder of Walk your Talk Retreats, creator of Alchemy Healing and co- founder of Women Weaving Change.
This course can be utilised as part of the Modern Medicine Women's Practitioner training. Please click into Modern Medicine Woman Practitioner Training course for detailed information.
Related Events